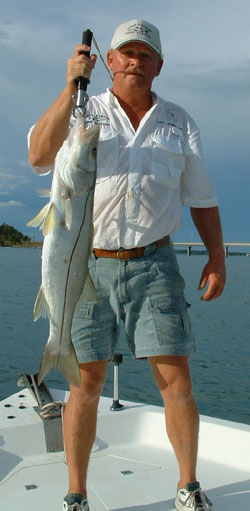 About Captain Johnny Long
He's a real native, born and raised in Sarasota and Manatee counties and has been fishing these areas since he was big enough to throw a rod and reel.
He's a member of the Sarasota Sportsmen's Club, on the membership committee for the Snook Foundation (sponsored by Mote Marine Laboratory) and past President of the Coastal Conservation Association (CCA). Founder and past President's of both the Sarasota Bass Anglers Society and Poorman's Bass Clubs in Sarasota in the mid 1980's.
Frequently conducts seminars at Boaters World and Sports Authority for the general public so they can learn as much about local fishing as he can teach them in a few hours.
One of the things most important to Johnny is the pleasure he gets from either teaching or watching kids and adults learn and enjoy a new hobby or add to something that the experienced fisherman thought he always knew. He enjoys fishing and hunting with his buddies or just sitting around a campfire with his family and friends.
He's been married to his wife, Cindy, for 30 years and they have 2 grown children, a son Capt. Daniel Long and daughter Katie.
This is enough about me - the proof is on the end of the line. Check out the pictures on the web.